Hemp Fabric: A Renewable Resource for a Greener Tomorrow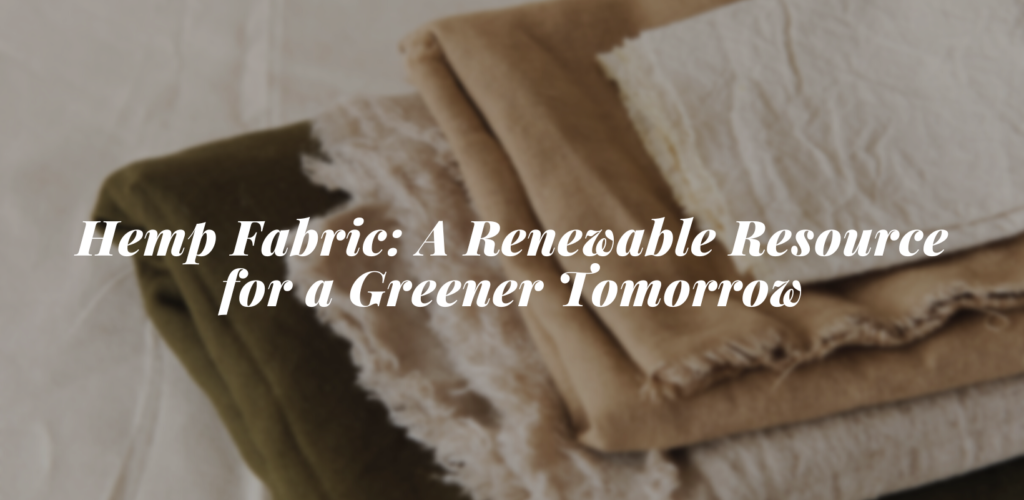 In the quest for a more sustainable future, hemp fabric has emerged as a shining star among eco-friendly textiles. Hemp, a versatile plant known for its myriad uses, has been cultivated for thousands of years and is now making a powerful comeback in the world of sustainable fashion and textiles. why it is used for various applications, and the benefits it offers, making it a renewable resource that holds the potential to shape a greener and more sustainable tomorrow
What is Hemp and Its Versatility:
Hemp, scientifically known as Cannabis sativa, is a tall, sturdy plant belonging to the Cannabaceae family. It has been a valuable resource for food, fiber, and medicine for thousands of years. From the stalks of the hemp plant, strong and durable fibers are extracted to create hemp fabric. This versatile fabric can be used to manufacture a wide range of eco-conscious products, including hemp bags, totes, table runners, cushions, throws, curtains, bedsheets, and yoga bags.
Sustainable Cultivation and Carbon-Neutral Footprint:
Hemp's eco-friendly cultivation process sets it apart from conventional crops. It requires minimal water and grows quickly, allowing for multiple harvests in a year. Additionally, hemp is naturally pest-resistant, reducing the need for harmful pesticides. As the hemp plants grow, they actively absorb CO2 from the atmosphere, contributing to a carbon-neutral footprint and helping combat climate change.
Zero-Waste Fabrication and Durable Properties:
One of hemp's remarkable attributes is its zero-waste potential. Every part of the plant serves a purpose, reducing waste in the manufacturing process. Hemp fabric is renowned for its durability and strength, leading to long-lasting products that minimize the need for frequent replacements, promoting a sustainable fashion cycle.
Naturally Antibacterial and Hypoallergenic:
Hemp fabric's natural antimicrobial properties make it resistant to mold, mildew, and bacteria, adding to its appeal in various applications. It is also hypoallergenic, making it an excellent choice for individuals with sensitive skin or allergies.
Hemp fabric represents a beacon of hope in the journey towards a greener tomorrow. As a renewable resource with minimal environmental impact, numerous applications, and a host of benefits, hemp has the potential to revolutionize the textile industry and contribute significantly to a more sustainable world. Embracing hemp fabric and using it to manufacture a diverse range of products, such as hemp bags, totes, table runners, cushions, throws, curtains, bedsheets, and yoga bags, showcases the remarkable versatility and eco-friendliness of hemp fabric. By advocating for its widespread use, we can collectively work towards a brighter and more eco-conscious future.
Check our Hemp Products